Last month, the Philadelphia Land Bank solicited its first request for proposals from developers to acquire and develop 17 contiguous parcels along the 1600 block of North Bodine Street. This RFP marked the first step in putting thousands of Philadelphia's 40,000 vacant, underused, blighted, delinquent properties to new uses through the municipal land bank.
But many wonder: will the Land Bank will really work, in real life? In Philly? The New York Times wrote: "critics are concerned about a provision in the ordinance creating the Philadelphia Land Bank that requires City Council approval for all sales, saying that could delay the disposal of properties and bog down redevelopment."
To this point, a guest on Curbed Philly's recent article on the Land Bank's first RFP commented:
Note the addresses. These properties are just inside the 7th Councilmanic District (Maria Quinones). South of Oxford or east of American, and this would be the 5th District (Clarke). Don't expect any 5th District RFPs. Those parcels are "reserved."
Only time will tell if the Land Bank winds up streamlining the process of selling off vacant, blighted property in the city, or convoluting the process even further.
But one aspect of the City's policies on purchasing City-owned land seems to have piqued quite a lot of interest (and suspicion): the apparent ability to purchase a piece of property for use as a side yard for $1, as previously detailed on Curbed Philly by former Editor Molly Webb in the massively popular article, Here's How to Buy Vacant Property from the City for $1.
We checked in with Philly's government offices to make sure that everything was still accurate, and staffers shared with us some useful guidelines on the ins-and outs of buying a piece of property for as low as a buck. (Spoiler alert: if the property price is less than $15,000, you won't have to pay a thing other than closing costs).
But first, here's how to know if you qualify for buying a piece of land under this policy:
"The City offers homeowners with vacant lots adjacent to their property the opportunity to turn those lots into sideyards. In some cases an adjacent homeowner can acquire the sideyard without writing a check for the full purchase price."
If the property:
is less than $25,000
shares a border with your property
is less than 3,000 sq ft
Then the City will reduce the money you need to bring to settlement by up to $15,000.
This means that if the property is valued at less than $15,000 you will not have to write a check at all, other than closing costs. If the property is valued between $15,001 and $25,000, the check you will write will be between $1 and $10,000 (plus closing costs).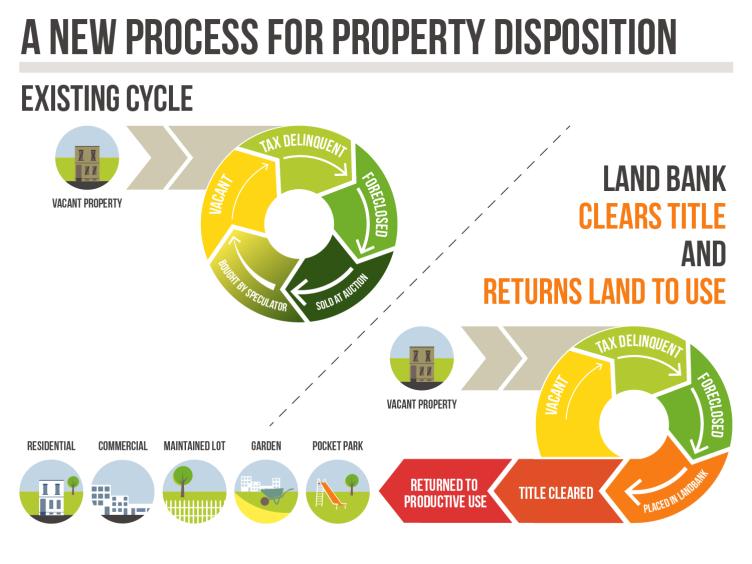 On closing costs:
The purchaser is responsible for closing costs, which could cost $1,000 or more and which are based on the entire value of the property, not the reduced amount that you will be out of pocket. Note that the $15,000 doesn't just go away. The City will place what's called a "soft second self-amortizing mortgage" on the property for that amount (or, if the property price is less than $15,000, the entire property price), and if you fail to maintain the property or sell it at a profit within 10 years, the City will call in the mortgage and you will have to pay some or all of that amount. Properties valued at more than $25,000 are sold at market value.
So there you have it. For further details regarding purchasing a sideyard, head to the City's Policy for the Sale and Reuse of City Owned Property on the Land Bank website.
Curbed out.
Buying Property [Philagov] Land Bank solicits first RFPs [Curbed Philly] Philly Land Bank
Here's how to buy vacant land for as low as $1 [Curbed Philly] City's policy for sale and reuse of City Property [Philly Land Bank]
by Megan Ritchie Jooste via philly.curbed.com
An Earthship is a type of passive solar house that is made of both natural and upcycled materials (such as earth-packed tires). Earthships can be completely off-grid or partially off-grid.
Earthships can be built in any part of the world, in any climate (with a permit) and still provide electricity, potable water, contained sewage treatment and sustainable food production.
Earthships are thermal mass homes first, passive solar homes second.
Whatever temperature goes into an Earthship, it will hold… and since it is also a Passive Solar House, it is also very tight and interacts only with the sun and the earth for heating and cooling, providing stable comfort year round in any climate. This results in being able to provide a sustainable home on property that may not be situated to the ideal of 13.5 degrees east of south.